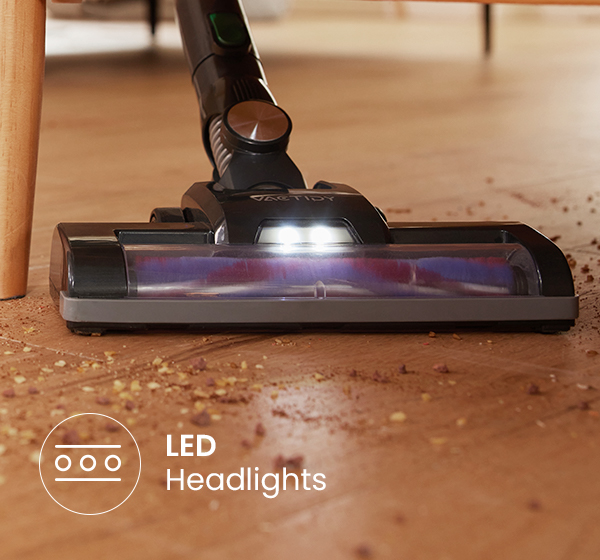 Flexible LED Head
LED headlights of vaccum easily spot dust and debris that might otherwise be missed, perfect for cleaning under kitchen cabinets. Swivel steering and an easy-to-grip handle for easy maneuverability and maximum comfort.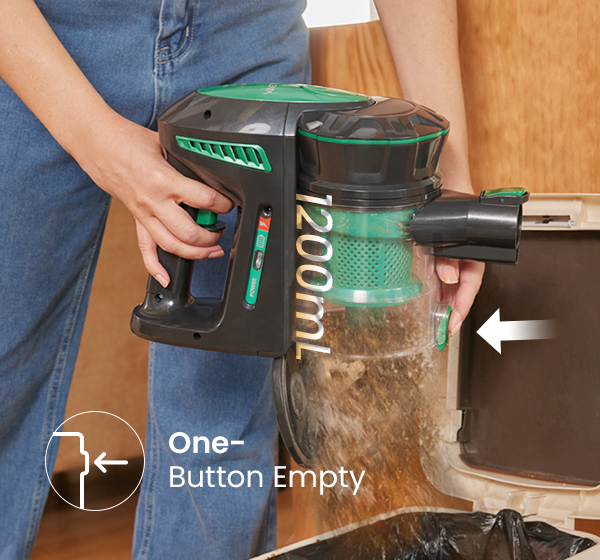 Single-Touch Emptying
The dust cup of cordless stick vacuum can handle debris of daily cleaning. Please pay attention to the position of the cover buckle and can easily open with one touch. Dump the trash and avoid secondary pollution.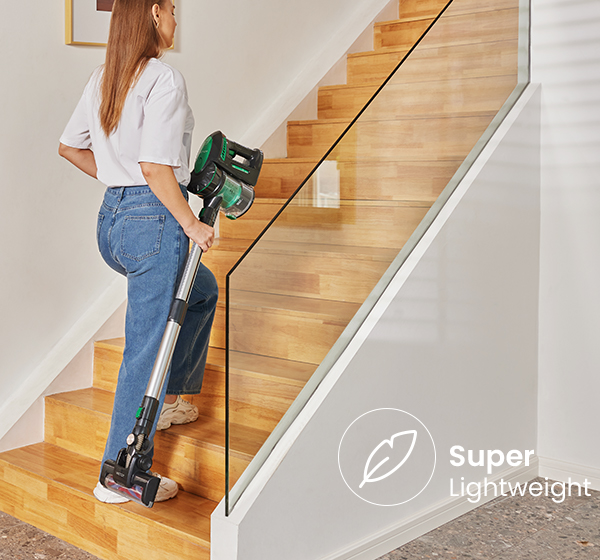 Super Lightweight Design
The full vac, with nozzle and wand, weighs in just 5 pounds! With the detachable hand vac, the weight is less than 3 pounds. It is perfect for above floor cleaning or carrying up and down stairs.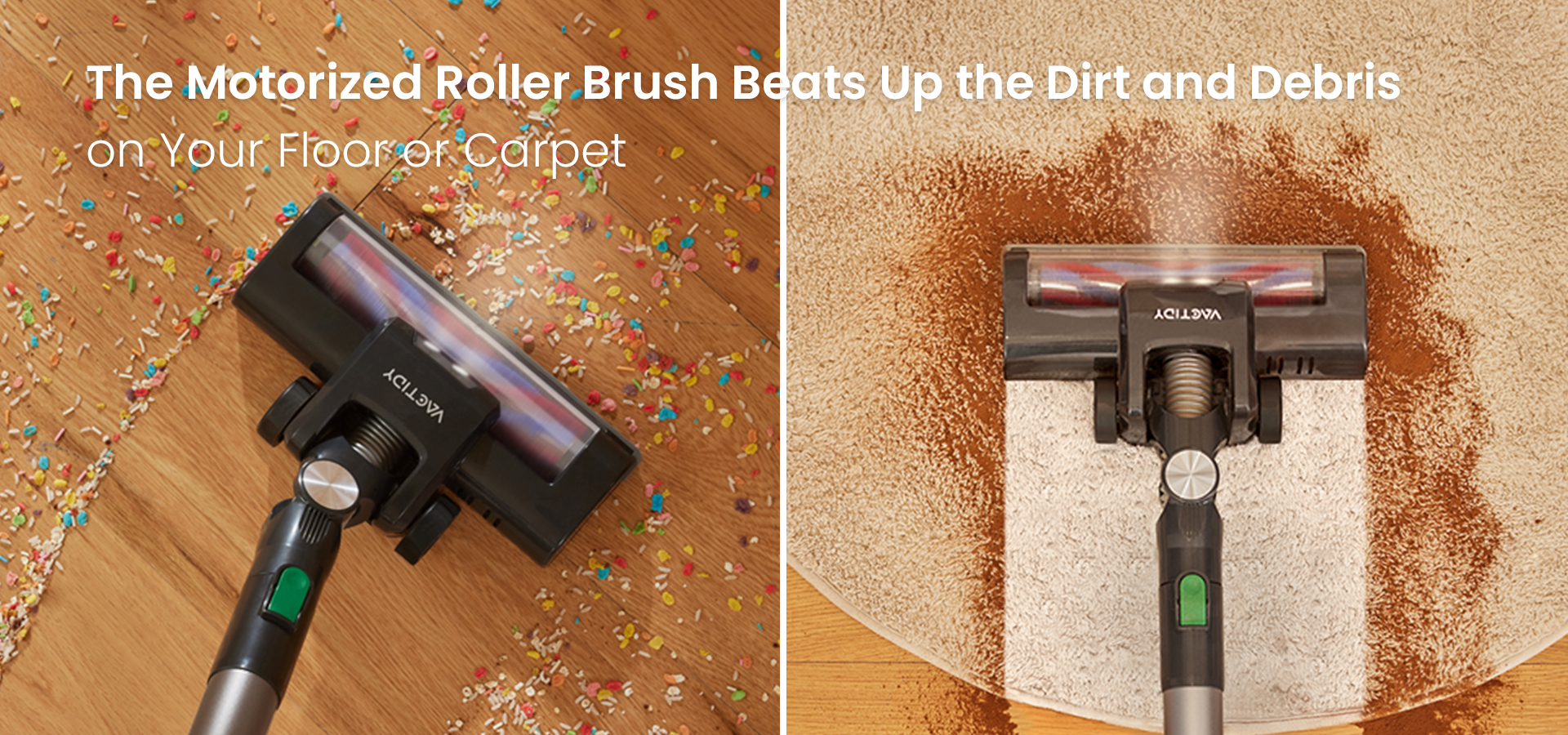 Why Vactidy Blitz V8 make cleaning so easy?
-Powerful Cleaning Modes:130W powerful lightweight vacuum cleaner provides 20Kpa powerful suction in MAX mode. Easily to suck up debris, crumbs and hairs. Choose between Low and High speed settings for quick and easy cleaning on tile, hardwood, linoleum and carpet.
-Long-Lasting, Detachable Battery: With 6-cell removable 2200mAH Lithium battery, the vacuum cleaner can offer up to 35 minutes of non-interrupted runtime, great for cleaning the whole home. And they can be charged separately. (*Measured at the hand vacuum in low mode.)
-Flexible Electric Swivel Head with LED Light: With an independent motor, electric brush head and 2 LED headlights, the household vacuum cleaners can easy to clean the dust under furniture and in tight spaces.
-Four-Stage Sealed HEPA Filtration System: The wireless vacuum cleaner has a complete sealing design, and a high-density washable HEPA filter that captures 99.99% of dust particles with maximum efficiency, expelling only non-allergenic fresh air with no leakage of fine dust.
-Versatile, Convertible Accessories: Easily converts to a cordless handheld vacuum with versatile accessories! Includes a long crevice tool and dust brush for convenient above-floor cleaning (upholstery or ceiling cobwebs, for example) and hard-to-reach places in your home or in your car.
Pet Power Brush
A brush set designed for pets, not only to groom, clip, de-shed the pet hair, but also to absorb dust from the surface of their hair.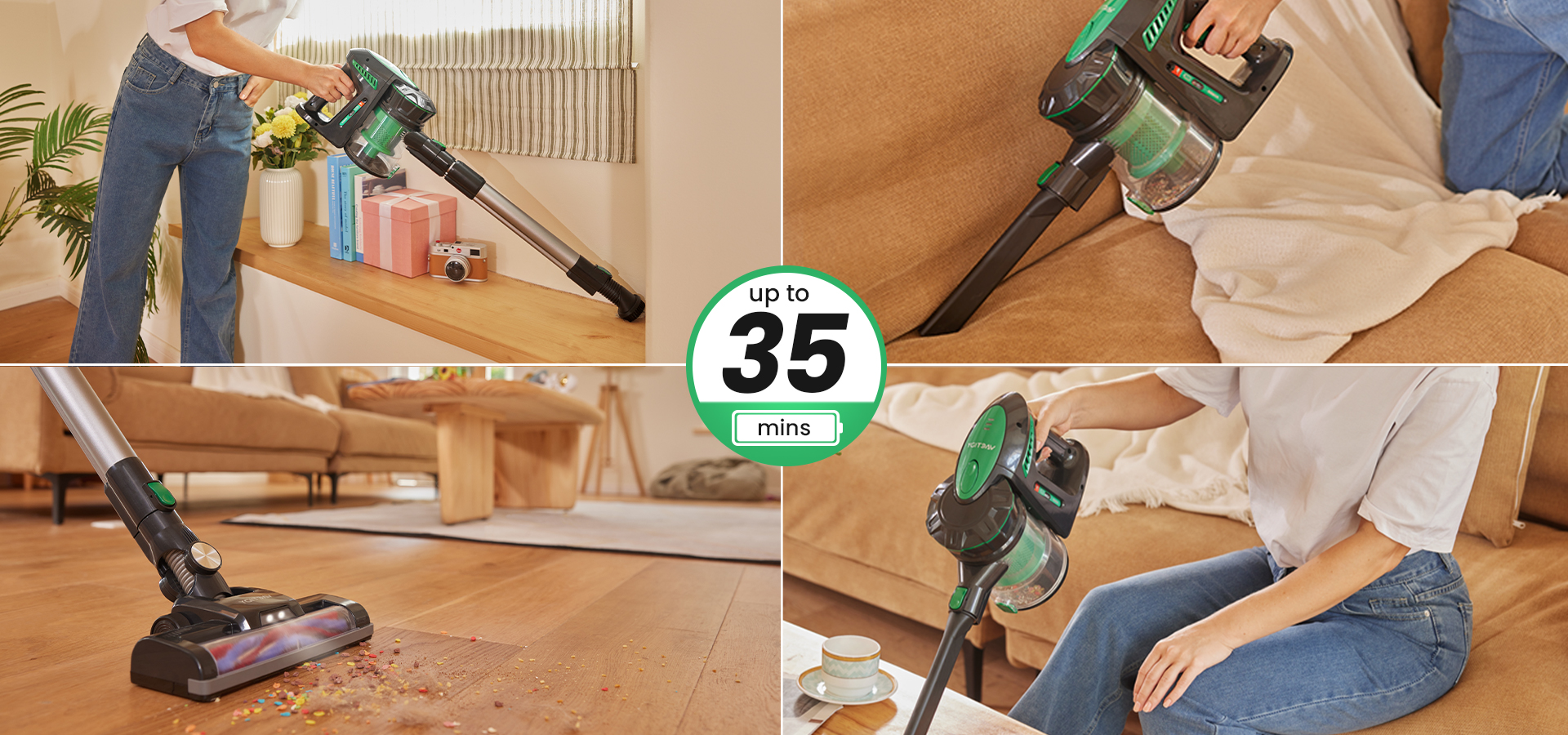 Multiple brush heads for the whole house cleaning
Switched freely to clean dust, pet hair, debris on hard floors, carpets, stairs and cars.
Multiple brush heads for the whole house cleaning
Switched freely to clean dust, pet hair, debris on hard floors, carpets, stairs and cars.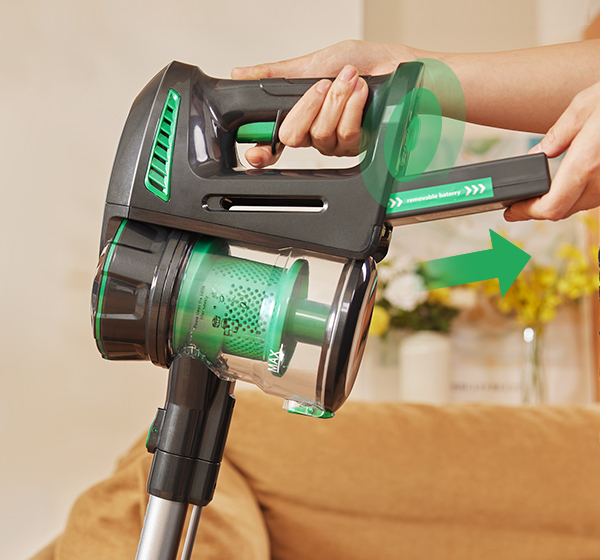 Two Charging Methods
The power pack is detachable and swappable, you don't have to wait for the vacuum to recharge before you can carry on. You can charge the small vacuum cleaner directly inserted into the body or charge seperate.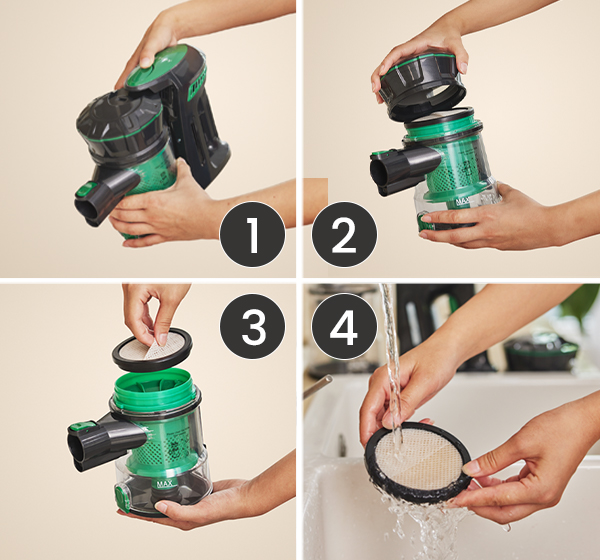 Washable Hepa Filter
The components inside the dustbin are detachable and washable. Regular cleaning them to ensure your vacuum cleaner efficient. You should replace HEPA once a month or two. (NOTE:Use again after completely dry)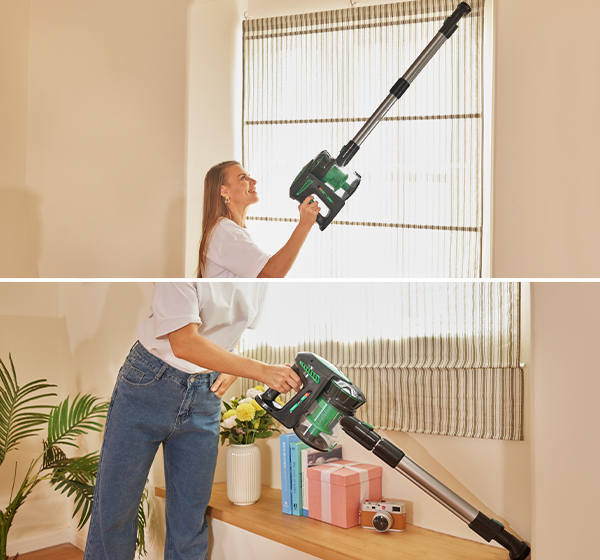 Extensible Metal Tube
To meet different needs, whether in the storage room or in the bedroom, living room, you can adjust the aluminum tube according to your height, arm length, using environment conveniently, practical and save storage space.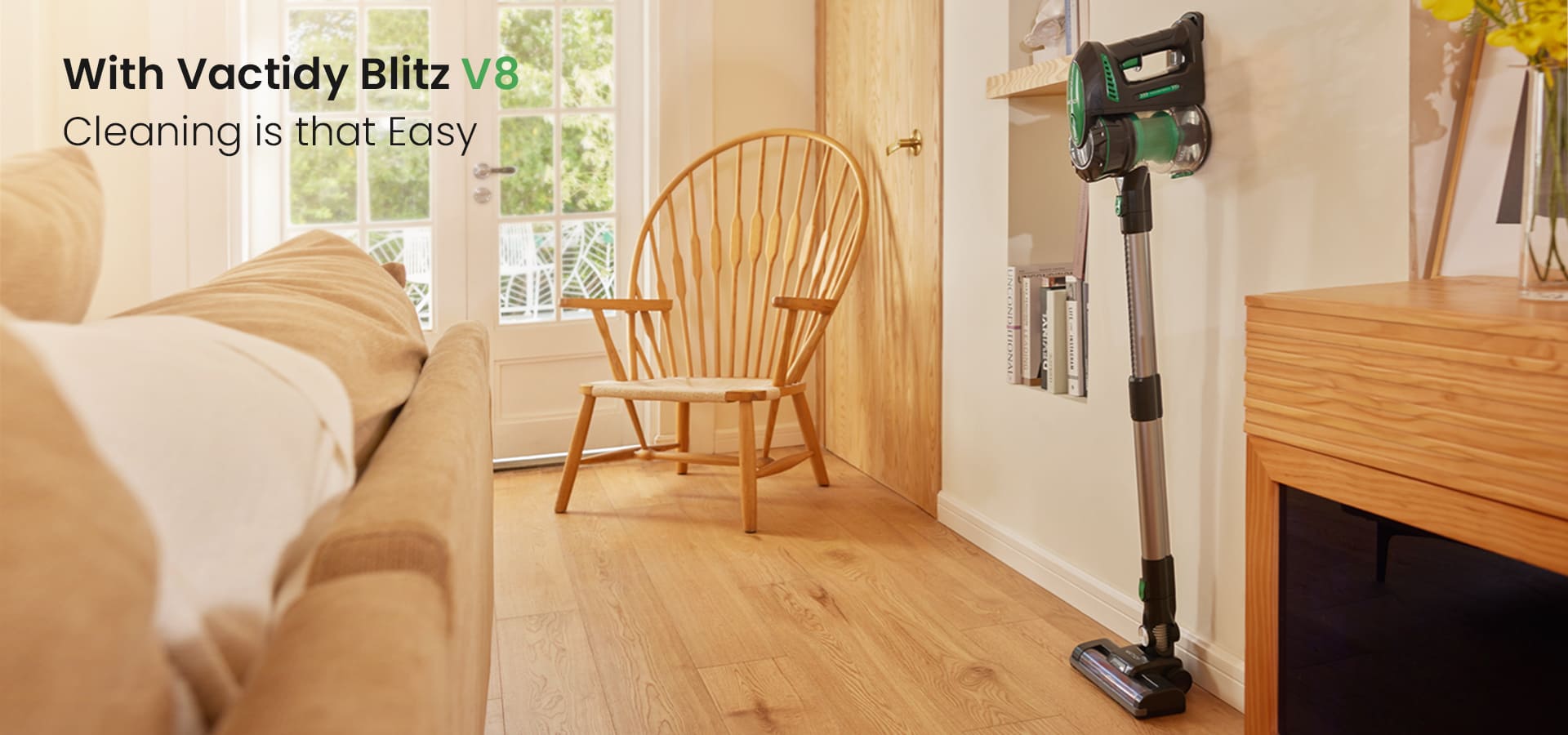 The suction power of cordless vacuum cleaner is weaken?
1. Check whether the battery needs charging.
2. Check if the dustbin, strainer or filters is full aof dust. Please empty the dustbin, wash the strainer and sponge filter with cool water, and clean the HEPA filter with the cleanging brush, replace the filter if necessary.
3. Check if the filters were installed correctly.
4. Check if there is any blockage in tube, or roller brush is tangled by hair.
LED Touch Screen
A real-time display of the operating status.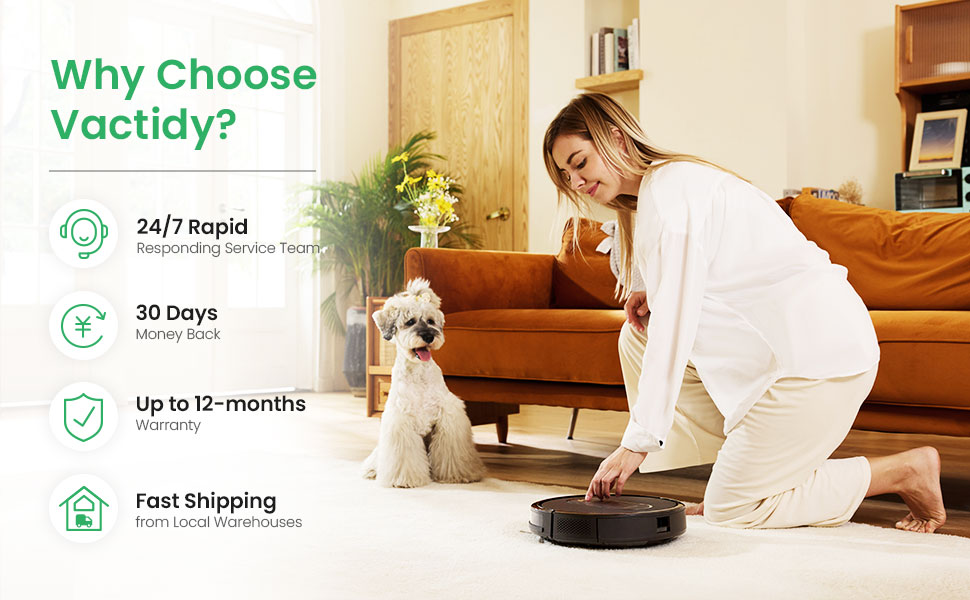 Product Specification
| | |
| --- | --- |
| Power | 200 Watts |
| Voltage | 240 Volts |
| Color | Green |
| Weight | 5.5 Pounds |
| Suction Power | 20000PA |
| Noise in Decibels (dB) | 78.8 dB |
| Filtration System | Washable HEPA and Strainer |
| Dimensions | 3.94"L x 3.94"W x 3.94"H |
| Charge Time | 2.5 Hours |
Support
You may also be into
$

269.00

Strong 2000Pa suction work on all kinds of floors
2500mAh batery offer up to 100 minutes runtime
Control Mode: Alexa/WiFi/App/Remote Control